Frank znowu poniżej 3 zł?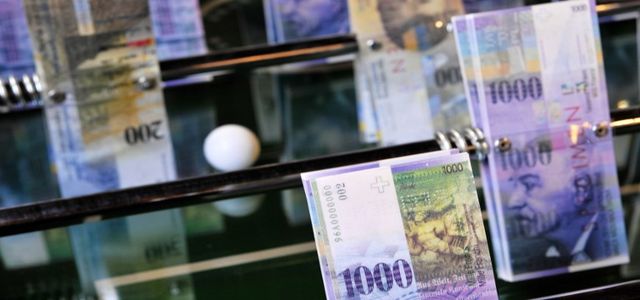 (fot. AFP / Fabrice Coffrini)
Jeszcze w tym roku mogą skończyć się problemy tysięcy frankowców. Zdaniem analityków Credit Agricole za szwajcarską walutę będziemy płacić grubo poniżej 3 zł. Dziś frank kosztuje około 3,35 zł.
- Złoty powinien znacznie umacniać się względem franka szwajcarskiego w 2014 roku - napisali w swojej prognozie rocznej francuscy analitycy Credit Agricole. 
Ich zdaniem wpływ na to będzie miała przede wszystkim polepszająca się kondycja naszej gospodarki oraz wzrost eksportu. Naszą walutę powinien też wzmacniać spadek zadłużenia zagranicznego oraz spokojna polityka monetarna NBP. 
To wszystko powinno sprawiać, że nasza waluta powinna umacniać się względem najważniejszej dla nas waluty, czyli euro. Jednocześnie Adam Myers oraz Guillaume Tresca przewidują, że dzięki temu kurs docelowy franka szwajcarskiego to 2,85 zł. Czarny scenariusz mówi, że najważniejsza waluta kredytobiorców może osiągnąć 3,63 zł. 
Analitycy Credit Agricole podają w swoim komentarzu jednak same dobre prognozy. Przewidują, że Polska skorzysta na globalnym ożywieniu gospodarczym. Ich zdaniem wzrost naszego PKB powinien przyspieszyć z 1,5 proc. do 2,8 proc. w 2014 r. Umocnieniu naszej waluty powinno sprzyjać także otoczenie. 
Zdaniem ekspertów walutowych, polityka Szwajcarskiego Banku Centralnego (SNB) oraz Europejskiego Banku Centralnego (EBC) powinny iść w kierunku wspierającym obniżenie się wartości franka. 
Wzrost wartości złotego to przede wszystkim dobra wiadomość dla wszystkich kredytobiorców zadłużonych w szwajcarskiej walucie. Przypomnijmy, że w minionym tygodniu rozpoczął się proces Tomasza Sadlika, który chce unieważnienia swojego kredytu. Walczy on także o przewalutowanie wszystkich pożyczek we franku na złote po kursie z dnia podpisania zobowiązania. Więcej na ten temat można przeczytać 
tutaj
.